XT Alignment app
The Easy-Laser XT Alignment App is used together with the Easy-Laser® XT measuring units to measure horizontally mounted machines.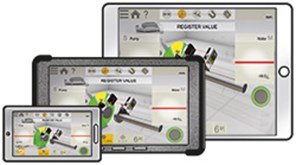 Without the hardware, you can still use the demo mode to test the app's functionality. 
Available in twelve languages: English, German, French, Spanish, Italian, Polish, Russian, Swedish, Brazilian Portuguese, Japanese, Korean, Chinese (traditional and simplified).
The app has been successfully tested on the following devices:
Google Pixel Xl
Huawei P20 pro
Huawei Mate 9 Pro
Huawei Media pad M2
Huawei Honor 8
ECOM
Samsung Galaxy tab S3
Samsung Galaxy S7
iPhone 7
iPhone X
iPad 5
iPad Air 2