Condmaster® Ruby is a comprehensive analysis, diagnostics, and troubleshooting software communicating with all SPM Ethernet compatible online systems as well as portable instruments for condition monitoring.
This feature-rich software has a user-friendly interface with powerful graphical functions enabling users to easily navigate from overview to detailed condition data. It offers a flexible measuring point register, full support for all HD monitoring technologies, sophisticated analysis tools and alert management, and extensive language support. Green-yellow-red color coding applied at every level, from plant to individual measuring point, enables fast overview. 

FLEXIBILITY AND EFFICIENCY
With a strong focus on providing powerful tools, including web and mobile apps, for users to get their job done Condmaster Ruby gives a smooth, efficient, and productive user experience with ample customization opportunities.

INTEROPERABILITY
Addressing the need for real-time data integration in industrial enterprise environments, the software offers options that simplify the exchange of data with automation assets, IIoT devices, and control systems in smart manufacturing.

INSTANT CONDITION EVALUATION
Simplicity and ease of use are core values in all our measurement technologies. Condition evaluation in green (normal) – yellow (caution; not yet critical) – red (warning; immediate attention) is the backbone in all our systems.
DSS – AI-based decision support
The Decision Support System (DSS) is a series of AI-based software functions particularly useful for automating and streamlining the management of large online systems. The overall purpose is to relieve maintenance personnel from having to deal with vast amounts of measurement data to analyze and find insights into root causes and complex problem-solving. 
Easier set-up of machines, measuring points, and measurement assignments
Faster and more accurate analysis of measurement results
Less reliance on in-house expertise
Frees up time for maintenance staff
Included in the platform package
CONNECTIVITY FOR THE SMART FACTORY
Condmaster Ruby has an easy to implement, Industry 4.0-friendly REST API enabling other resources to access Condmaster data for further processing or analysis. To provide even greater opportunities for interoperability, Condmaster also supports the OPC UA standard. The capability to merge high-quality condition monitoring data into Big Data analytics and machine learning enables more accurate predictions and sharper analysis.
HIGH-EFFICIENCY DATA HANDLING
Condmaster Ruby focuses on efficiency and high through-put. Optimized database management and parallel computing enable fast execution of processes and calculations, thus supporting Big Data analytics. Timely reporting of condition data enables managers to stay up-to-date on the health of critical assets.
MONITOR AND OPTIMIZE INDUSTRIAL PROCESSES
Beyond traditional condition monitoring using vibration and shock pulse data, Condmaster Ruby has the capacity to handle process-related data, which can be presented in customer-specific dashboards – in Condmaster or other systems – to monitor and optimize industrial processes.
A powerful analysis and diagnostics software 

Condmaster contains the expert knowledge needed to evaluate machine condition: 

• A complete bearing catalog 
• Lubricant data
• Bearing life calculation 
• SPM condition evaluation rules 
• ISO limit values 
• Mathematical models for spectrum analysis and fault symptom detection
...and much more. The software has data import and export functions, and full system security with different access levels. You can administrate all maintenance activities, set up time schedules and measuring routes, input work descriptions, and generate machine fault statistics.
A single software for all your condition monitoring data
Condmaster Ruby lets you manage every aspect of your condition monitoring program with a single software providing everything you need to run your predictive and proactive maintenance successfully. In-depth KPI follow-up with Plant Performer
Plant Performer is very effective for demonstrating the benefits of condition monitoring and communicate its technical and economic impact to all levels of the organization. The module visualizes statistics related to technical and economic KPIs in the OEE/TEEP area for display, evaluation, and printing.
Statistics from an unlimited number of Condmaster databases can be exported and imported – such as from other divisions, production units, plants, or an entire Group – for easy comparison of data. Using an API, Plant Performer statistics can be exported also to other systems.

Save time with Machine Builder
The powerful and time-saving Machine Builder lets the user drag-and-drop components such as electric motors, gearboxes, fans, and pumps, from a built-in library to quickly create machines and complete applications. Condmaster automatically generates measuring points as well as the appropriate measurement assignment settings and mechanical fault symptoms to monitor.
Condmaster also creates color zones automatically, and users can save components and machines created with Machine Builder in a template library for reuse.
By clicking "Submit", you agree that your message and personal details will be sent by email to relevant recipient(s) at SPM Instrument. You hereby also agree that SPM Instrument and its subsidiaries will have access to the information you have provided and that these data will be stored on our email server. The data will not be saved in any other way. We will not use this information to contact you about matters other than those specified in your request. We will not share your information with third parties.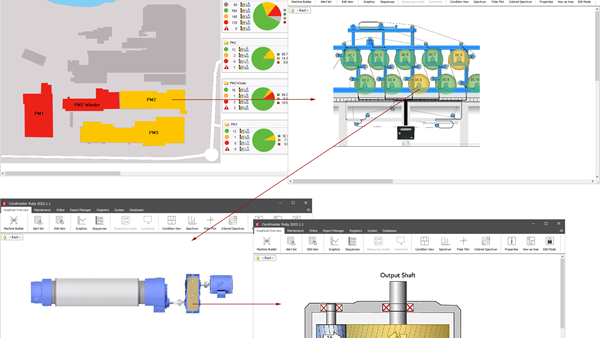 Graphical Overview
The Graphical Overview enables the visualization of plant equipment and mechanical condition in a very intuitive, top-down perspective.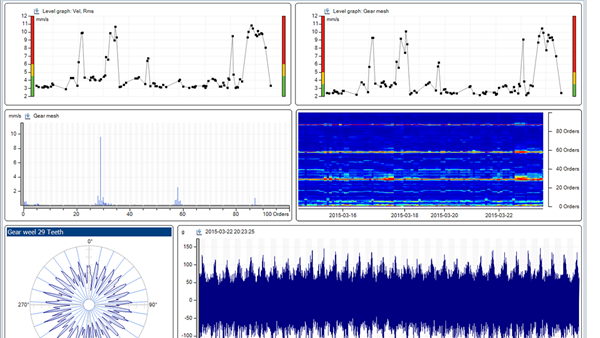 Condition View
Condition View – a powerful tool for presentation and further analysis with multiple graph types and measuring assignments combined in a single window.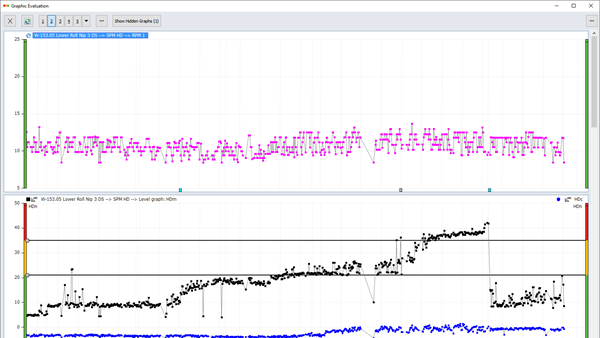 Graphic Evaluation
The Graphic Evaluation function offers an easy-to-understand condition evaluation in green-yellow-red scales on the Y-axis.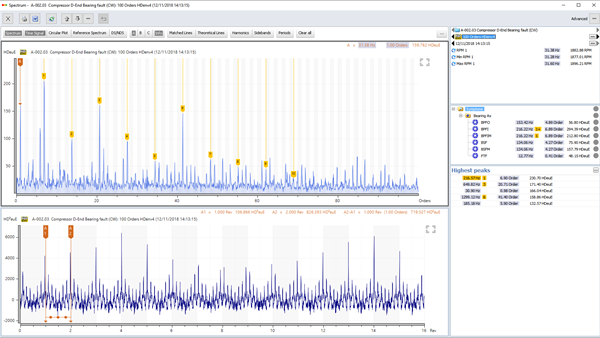 Spectrums and time signals
High-performance vibration analysis with razor-sharp spectrums and time signals bring root cause analysis to a new level of understanding.
... and much, much more. Contact your nearest sales representative today to learn more about all your analysis options with the Condmaster software.
Modules
Powerful out-of-the-box functionality
Condmaster Ruby combines extensive platform functionality and usability. The many powerful features included in the platform help support key maintenance objectives. Add-on modules can be purchased to extend functionality further as your condition monitoring program grows or business requirements change.
Measuring techniques and functions included in platform

Additional measuring techniques and functions ordered separately

* Analog input as voltage or current, or manual input
Condmaster Ruby is modular, and by purchasing add-ons, its functionality can be tailored to specific organizational requirements and personal preference. 
Shock pulse monitoring
dBm/dBc
LR/HR with Lubmaster
SPM Spectrum™
SPM HD Expert
Online monitoring
 Other
Vibration monitoring
Vibration ISO 10816, 2372
FFT with symptoms
EVAM incl. Condition Manager
HD ENV
Multi-channel measurement
High resolution and high frequency
Run up/Coast down, Bump test and FRF
Orbit analysis and Shaft Centerline Plot
HD Order Tracking