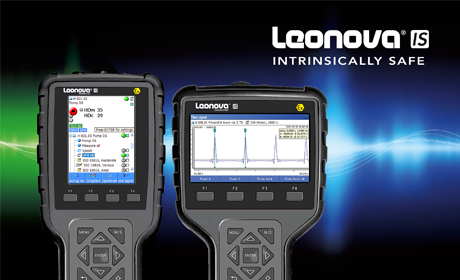 SPM Instrument releases cutting-edge portable instruments for extreme EX zones
SPM Instrument, Sweden, leading provider of condition monitoring technology, now announces the launch of Leonova Diamond®IS and Leonova Emerald®IS. IECEx and ATEX certified, these new arrivals from SPM provide sophisticated condition monitoring capabilities for potentially explosive industrial environments, including zones 0, 1 and 2.
SPM HD and three-channel vibration monitoring
Leonova Diamond IS and Leonova Emerald IS are the first portable measuring devices for hazardous areas to come with the SPM HD® shock pulse measuring technique for condition monitoring of rolling element bearings. Outperforming traditional vibration measurement techniques on many applications, the SPM HD method is unrivalled in its ability to measure in the entire 1-20 000 RPM range. The perfect companion to vibration analysis, SPM HD can be used successfully on all types of machinery with rolling element bearings.
Leonova Diamond IS is also the first ATEX/IECEx certified instrument to offer three truly parallel vibration channels enabling advanced vibration analysis (40 KHz, 25 600 lines) and balancing. Both instruments use supreme HD Order Tracking for shock pulse and vibration measurement to provide crystal clear measuring results also on variable speed equipment.
Stefan Lindberg, Managing Director of SPM Instrument AB: "We consistently strive to develop and deliver superior condition monitoring products to the world's industries. Leonova Diamond IS and Leonova Emerald IS are results of this dedicated work. Our R&D department has engineered two leading-edge instruments that will enhance the possibilities for maintenance engineers to practice advanced condition monitoring in hazardous areas."