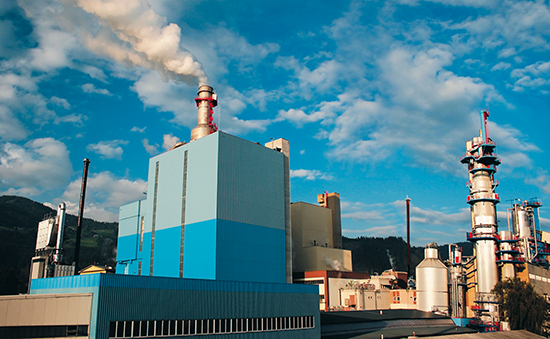 Case study: Zellstoff Pöls monitors production-critical wash presses with SPM HD
Some time ago, Austrian pulp mill Zellstoff Pöls AG commissioned a test installation of the Intellinova online system on a critical, low-speed wash press in order to evaluate the potential of shock pulse monitoring where vibration measurement had been unsuccessful.
During the trial period, the online monitoring system Intellinova Compact and the patented SPM HD shock pulse technology were used. This case study describes test measurements on a wash press, operating at a speed of approximately 8 RPM, in the bleaching plant at Zellstoff Pöls.
Ernst Kolitsch, Deputy Maintenance Manager, comments on the test installation: "Thus far, we had not found a good method to detect bearing damages on slow-running machines. We tried vibration measurement but without success. During the test installation, which SPM had made available to us, a bearing damage was determined with convincing precision. We were able to carry out the replacement of the bearing at a planned standstill, which meant that there was no loss of production."
Having proven itself during the test installation on the wash press, this condition monitoring solution has since been installed also on a digester and a white liquor filter to ensure plant availability and prevent unplanned downtime. The monitoring of further assets is planned for the future.
Launched in 2010, the patented SPM HD shock pulse technology has won a large number of users in the pulp and paper industry. The method's capacity to measure even at extremely low speeds (upwards of 0.1 RPM) makes it possible to implement condition monitoring on more machine types than ever before. SPM HD detects machine problems which can not be detected by traditional vibration measurement, and the method thus can contribute to significantly increased maintenance efficiency.
Zellstoff Pöls AG is one of the largest producers of elemental chlorine-free (ECF) bleached softwood sulphate pulp in Central and Eastern Europe. The Pöls plant produces 420,000 tons of pulp and 80,000 tons of kraft paper.